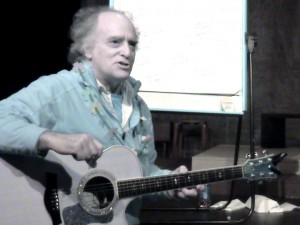 Media release | Parker School
Parker School welcomes Kid Pan Alley to the lower school campus for a songwriting residency during the week of February 7-11.  Paul Reisler started Kid Pan Alley with a brilliant, yet obvious discovery—children's imaginations make kids the greatest song co-writers. Songwriting is a way to talk about some of the most important and complex personal and world issues as seen through the wide and perceptive eyes of children.  Trapezoid's Paul Reisler founded Kid Pan Alley with the goal of reinvigorating creativity as a core value in education, one community at a time.  Kid Pan Alley has created and performed more than 1,500 songs with some 25,000 elementary school children in communities across the U.S.
It's a fascinating process to watch a song start from a little speck of an idea and grow into a completed song in a little over an hour. Reisler asks the kids what they want to write about. They come up with some ideas, vote to select one, and then they are off and running with some brainstorming about the idea. As the collection of thoughts and ideas starts to take shape on the blackboard and Reisler senses there is enough material for the song, they start writing the lyric for verse or chorus. By the time that section is done, they've discovered the music in the lyric and the whole class joins in singing the song.
Paul will work with lower school students at Parker School as part of a songwriting residency during the week of February 7-11.  Each grade will write their own song culminating in a concert in the Parker Theatre for family and friends.  The students will perform their own songs about homework, magic and much more. Paul and his guests will perform songs previously written by students of other schools. For more information visit www.parkerschool.net.