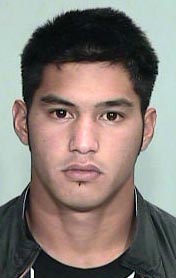 Media release | Hawaii County Police Department
Big Island police are asking for the public's help in locating a man in wanted in connection with kidnapping, terroristic threatening, abuse, and assault investigations reported in Hilo on Monday (February 7). The victim reported that the man being sought, 25-year-old Edward Daog, is her ex- boyfriend.
Daog is described as 5-foot-7, 165 pounds, with brown hair and brown eyes. He is also wanted for an unrelated bench warrant.
Police ask that anyone knowing his whereabouts call Detective Royce Serrao at 961-8810 or the Police Department's non-emergency line at 935-3311.
Tipsters who prefer to remain anonymous may call Crime Stoppers at 961-8300 in Hilo or 329-8181 in Kona and may be eligible for a reward of up to $1,000. Crime Stoppers is a volunteer program run by ordinary citizens who want to keep their community safe. Crime Stoppers doesn't record calls or subscribe to caller ID. All Crime Stoppers information is kept confidential.