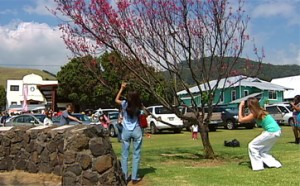 Video by David Corrigan | Voice of Stephane Salazar
The cherry tree blossoms were barely in bloom at Waimea church row, but that didn't stop thousands from turning out to celebrate the 18th annual Cherry Blossom Heritage Festival.
The festival derives its name "Hanami" for the Japanese tradition of viewing of the Flowers in springtime. Many of the day's events involve activities of cultural significance to the Japanese, like the bon dance at the start of the day. Even Mayor Billy Kenoi joined the circle.
Kenoi was also on hand to honor two very special residents of the Wiamea area.
Local agriculture researcher Milton Yamasaki was recognized for his years of work on behalf of Hawaii farmers and ranchers, as was master kapa and lei-making artist Marie McDonald for her treasured cultural contributions.
Roxcie Waltjen, Cultural Services Director for the county, said it was a challenge to put the event together this year, but the community pulled through.