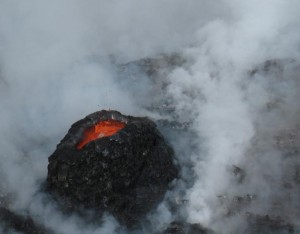 By Tim Bryan, images courtesy USGS
A new spattering vent has formed on the south side of the Thanksgiving Eve Breakout shield, and the Hawaiian Volcano Observatory caught a glimpse of the activity just before daybreak on February 4.
The active Pu'u O'o crater floor is slowly filling the east side of the vent with lava.
Meanwhile, at Kilauea's summit, the circulating lava lake in the collapse pit deep within the floor of Halema`uma`u Crater has been visible via Webcam throughout the past week. Volcanic gas emissions remain elevated, resulting in high concentrations of sulfur dioxide downwind.
After this video was put together, the USGS gave this report on recent temblors in the region surrounding Kilauea. This statement was a part of Wednesday's Kilauea Status Report, issued at 8:30 a.m. The report serves as a summary of the activity at the volcano over the last 24 hours.
"Nineteen earthquakes were strong enough to be located within Kilauea volcano" stated the update, prepared by HVO scientists, "sixteen within the upper east rift zone (starting beneath Puhimau Crater and migrating both uprift to Keanakako`i Crater and downrift to Hi`iaka Crater) and three scattered beneath a broad area extending both north and south of the upper east rift zone nearer Makaopuhi and Napau Craters; the ongoing seismicity within the upper east rift zone continues to be a concern."
Visit the HVO Web site (http://hvo.wr.usgs.gov) for detailed Kilauea and Mauna Loa activity updates, recent volcano photos, recent earthquakes, and more; call (808) 967-8862 for a Kilauea summary; email questions to askHVO@usgs.gov.