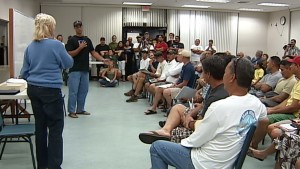 Video by David Corrigan | Voice of Stephanie Salazar
Surfers vs Stand Up Paddleboarders.
Apparently thats what it has come to at the increasingly crowded East Hawaii surf spots, like Hilo Bay and Honolii.
Recently, the Big Island Safe Surfing Alliance approached the state to impose "reasonable restrictions" on a relatively new watersport that has exploded in popularity: stand up paddleboarding.
The Department of Land and Natural Resources called an informal public meeting on Wednesday in Hilo, where both sides sounded off.
With an advantage of mobility over traditional surfers, S.U.P. surfers have been accused of wave-hogging by the traditional surfing crowd. All surfers and SUPers seemed to agree that there has been an overall lack of etiquette on the water.
At the meeting, an equally large group of standup paddle boarders spoke out to defend their sport.
Mayor Billy Kenoi was there for the start of the meeting, and suggested that the next time the two sides get together, it should be at the beach and not in a conference room.