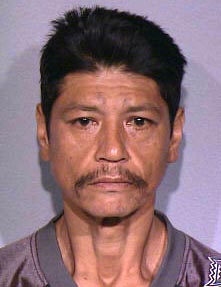 Media release | Hawaii County Police Department

A Waimea man has been arrested and charged in connection with a restaurant burglary last week.
South Kohala patrol officers responded to a 2:12 a.m. report Thursday (February 10) and learned that a cleaning crew had encountered a man in a storage room at a restaurant on Opelo Road in Waimea. The man verbally threatened the crew, attempted to flee in a sedan, crashed the car into a tree and then abandoned it and fled on foot.
Police investigation led to the arrest later that day of 44-year-old Valentine Joseph Gines of Waimea. Detectives from the Area II Criminal Investigations Section took over the investigation.
Shortly before 5 p.m. Friday (February 11), detectives charged Gines with second-degree burglary, third-degree criminal property damage, second-degree robbery, inattention to driving and false reporting. The false reporting offense was for reporting that his car had been stolen. His bail was set at $38,000.
Gines was held at the Kona police cellblock pending his initial court appearance on Monday (February 14).