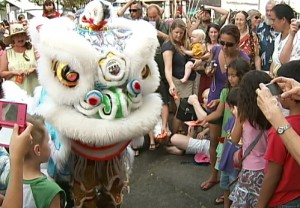 Video by David Corrigan | Voice of Stephanie Salazar

The lion dancers were out on Saturday, as Hilo celebrated the Year of the Rabbit and Chinese New Year.
A large crowd waving Red Envelopes followed the traditional performers from the Mo'oheau Bus Depot, to here on the steps of the East Hawaii Cultural Center by Kalakaua PArk, were the 9th Annual Hilo Chinese New Year Festival was underway.
The event was produced by the Hilo Downtown Improvement Association, and the festival was sponsored in part by a grant from the Department of Research & Development's County Product Enrichment Program and the Hawaii Tourism Authority… with many local sponsors.