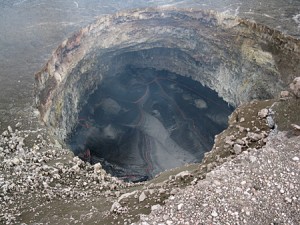 By Tim Bryan
The rash of small earthquakes in the Volcano area that had scientists on alert this weekend appears to have slowed down.
While most volcano enthusiasts usually keep an eye on the ever changing lava flow in Kalapana, this weekend saw increased attention given to the upper rift zone.
Of course, geologists with the Hawaiian Volcano Observatory never take thier eyes off the active Kilauea summit. But a rash of small earthquakes had the rest of the Volcano region on edge. Many residents were wondering what might be happening at the upper east rift zone.
Scientists don't know for sure what might be happening, but they do say that the ongoing seismicity in that area seemed to peak around the magnitude-3.8 quake Thursday morning. Sill, scientists will continue to watch this area closely.
Stay tuned to Big Island Video news this week as we bring you a special video series on the deadly potential of Kilauea, and how the volcano's reputation as a gentle tourist attraction is contradicted by historical data. The last deadly explosion was in 1790… but how soon could it happen again?
PHOTO courtesy USGS Hawaiian Volcano Observatory: "The lava pond in the vent cavity of the Halema`uma`u Overlook vent during the rise phase of a rise/fall cycle" said the HVO in the caption that accompanied this picture on its website. "In this photo, the lava pond is 95 m (312 ft) below the floor of Halema`uma`u crater. When the pond level is high there is very little fume, allowing for unusually clear views."