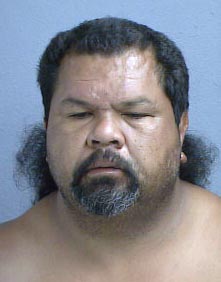 Media release | Hawaii County Police Department
Monday afternoon (February 14), Hilo detectives charged a 42-year-old Mountain View man for assaulting another man during an incident early Sunday morning (February 13).
Around 12:04 a.m., patrol officers from the Puna District responded to an assault incident involving a victim who was reportedly stabbed by an assailant in the area of Old Volcano Road and Nahelenani Street in the Volcano area. Responding officers determined that a 43-year-old Volcano man suffered cuts to his hand and his abdomen during the incident and was transported to Hilo Medical Center in serious condition.
Detectives from the Area I Criminal Investigations Section continued the investigation and, as a result, Darren I. Hopfe was charged with first-degree assault and his bail was set at $25,000.
The victim underwent surgery and his condition has since been upgraded to stable.
Hopfe was scheduled for his initial court appearance Tuesday afternoon (February 15).