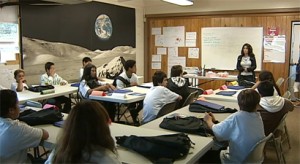 Video by David Corrigan | Voice of Stephanie Salazar
When the Department of Human Services cuts the funding for 41 social service programs across the state on April 1st, some local institutions will take a big hit… and others may not be able to recover.
One endangered program is the Hawaii National Guard's Operation About Face and Forward March programs, which help the disadvantaged to prepare for real world challenges.
Program Manager Robbie Robinson says the service stands to lose 98% of its funding.
Students and adults enrolled there spoke well of the program, but despite the good reviews, DHS intends to cut funding for these and other Big Island programs like Boys and Girls Clubs, Partners in Development–Tutu and Me, Planned Parenthood, and The Institute for Human Services-West Hawaii. The department hopes save $84 million while maintaining job training and financial assistance programs.
The department has to close a $116 million deficit.