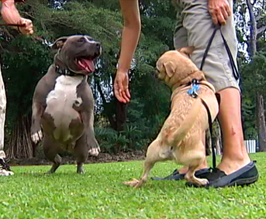 Video by David Corrigan | Voice of Stephanie Salazar
Hilo has its own dog whisperer, and Dr. Carl Oguss has plans not only for happier dogs but for creating jobs as well.
On weekends, Oguss – a retired psychology professor – seems to immediately calm and control the somewhat troubled dogs that come for a play date by Hilo Bay.
"Every Sunday from 2pm to 4pm here in Queen Liliuokalani Park", said Oguss, "we have dog owners come and the only requirement is that they be able to physically hold on to their animal while they're here, so we can avoid fights."
Oguss holds a Q&A and then shows the owners how to correct small behavior problems in their dogs.
He says the most common problem he sees on the Big Island of Hawaii is aggression, or pulling on the leash during walks. These issues limit a dog's social interactions because owners are afraid to take them places. Barking dogs are also a common problem.
Oguss says we must use communications that can be understood, and provide for the dog's needs, including their needs for friends and active, interesting days.
As for jobs, Oguss says more dogs could be used for national security such as checking for dangerous chemicals or possible weapons smuggled in at Hawaii's ports and airports.
'We don't have nearly enough dogs," says Oguss about his idea, "and as a country we are spending a lot of money on various types of technology to see if you have malice and evil intent. A dog can check for all kinds of dangerous chemicals, munitions of one sort or another, and they would provide security for us in a faster, easier and cheaper way."
You can join the fun Sunday afternoons with Hilo's dog whisperer, Carl Oguss.