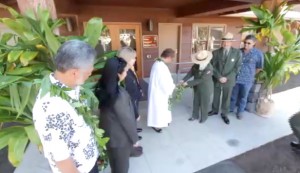 Video by Baron Sekiya, Hawaii247.com | Voice of Tim Bryan
The Hawaii Volcanoes National Park unveiled a new, $5.6 million dollar emergency command center after a ceremony on Friday.
The Visitor Emergency Operations Center will help the park's staff handle situations – like natural disasters, lost hikers, and other park related incidents – right from this building, which was built using federal stimulus money.
From this state of the art center, all eight national parks in Hawaii, as well as those Guam, American Samoa and Saipan will be serviced.
The center also features a memorial to Ranger Steve Makuakane-Jarrell, who was shot and killed at Kaloko-Honokohau National Historical Park in 1999.
The hurricane proof, vog proof building also qualifies for platinum LEED status; a high ranking in Leadership in Energy and Environmental Design.