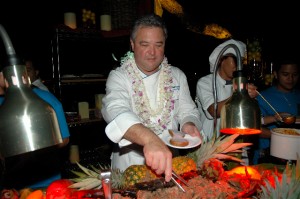 Media release | Fern Gavelek Communications
SAVE THE DATE FOR TASTE OF THE HAWAIIAN RANGE
KOHALA COAST, BIG ISLAND OF HAWAI'I — Mark your calendar for Mealani's Taste of the Hawaiian Range and Agriculture Festival on Friday, Sept. 30 at the Hilton Waikoloa Village. The 16th annual event showcases the isle's grass-fed beef industry while bringing together local ranchers, farmers, restaurateurs and eager eaters to celebrate a bounty of locally produced food.
Over 30 of the state's top chefs dazzle diners 6-8 p.m. with delectable dishes using grass-fed beef, pork, lamb, goat, mutton and wild boar—plus fresh island fruit and veggies.
Attendees looking for culinary adventure can taste and enjoy all the cuts of grass-fed beef—everything from tongue to tail. Chefs will offer expertly prepared sirloin tip and ribs, plus cuisine using meat like beef cheek and the infamous "rocky mountain oysters" or bull testicles.
While "tasting," festival goers can meet Hawai'i's food producers at gaily decorated vendor booths and talk story with the ranchers and farmers who make a living growing our food. Taste also affords local food producers the opportunity to hookup with isle chefs, wholesale buyers and consumers.
Learn how to use and prepare 100 percent pasture-raised beef at a 3 p.m. culinary activity: Grass-Fed Beef Cooking 101. This year's guest presenter is KTA's Derek Kurisu of TV's "Living in Paradise."
Tickets prices for the evening Taste and Cooking 101 demo will be conveniently sold online starting March 1 at http://www.TasteOfTheHawaiianRange.com. Taste tickets remain priced at $40 presale and $60 at the door, while the fee for the cooking demo is $10.
For general event information, phone 808-987-3432. Local food producers wishing to participate with a vendor booth can contact Nina Tanabe ntanabe@pfthi.com or 808-933-8611.
Anyone who requires an auxiliary aid or service for effective communication or a modification of policies and procedures to participate in this event should contact Leomi Bergknut at 808-987-3432, as soon as possible and no later than September 23, 2011.