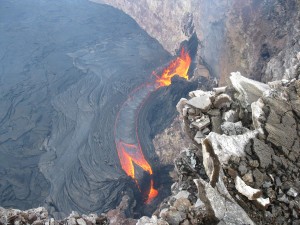 Video courtesy USGS Hawaiian Volcano Observatory | Voice of Tim Bryan
These are some of the most recent images of Kilauea, published by the Hawaiian Volcano Observatory.
The video above shows another series of collapses occurring within the summit vent on the floor of Halema`uma`u before sunrise on February 15. The video has been a common site this month, as rockfalls, fluctuating lava levels, and small earthquakes have kept geologists busy.
Farther down the east rift zone, at the Pu`u `Ō `ō vent, lava can be seen cascading within. To the right is an image provided by HVO, showing lava erupting from the septum between the two openings on the east wall of Pu`u `Ō `ō crater the morning of February 17, just after 7:00 am
Scientists say sulfur dioxide emission rates from the summit and east rift zone vents remained elevated.
On Tuesday, the Hawaii Department of Health revised its SO2 advisory levels to be more protective of people with asthma.
The move is a response to the Environmental Protection Agency's new 1-hour sulfur dioxide standard of 75 ppb.
The new advisory levels can be found on this website, where the public can obtain up-to-date information on areas of the Island of Hawaii impacted by vog and volcanic emissions.
The new, color-coded system will designate Green as "Good," Yellow as "Moderate" and Orange as "Unhealthy for Sensitive Individuals."