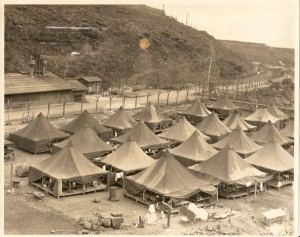 Images courtesy National Park Service | Voice of Tim Bryan
Starting this week, the National Park Service will be conducting a "Special Resource Study" of Hawaii's World War II confinement sites to determine the best way to preserve and share their history. There will be two meetings on Hawaii Island.
The U.S. Congress ordered the study because of the historic importance of Hawaii's Japanese Americans forcibly confined during World War II.
Approximately 120,000 Japanese Americans, most of them United States citizens, were incarcerated during World War II.
Here in Hawaii, over 2,000 Japanese Americans, as well as over 100 German Americans and Italian Americans, both aliens and U.S. citizens, were interned at eight locations in Hawaii.
During this time, Kilauea Military Camp – located within what is now the Hawaii Volcanoes National Park – briefly served as an internment camp and later as a prisoner of war camp during World War II.
The National Park service says KMC is the most intact of all historic sites, with buildings used during the internment still standing, and post-war developments and modifications relatively minor.
Informational meetings and opportunities for public input are scheduled throughout Hawaii in the month of March and the public is invited to participate in Kona and in Hilo, here:
Tuesday, March 1st – Kona Outdoor Circle 76-6280 Kuakini Highway
3-5pm, 6-8pm Kailua-Kona, HI 96740
Tuesday, March 10th – Hawaiʻi Japanese Center 751 Kanoelehua Avenue
3-5pm, 6-8pm Hilo, HI 96720-4517