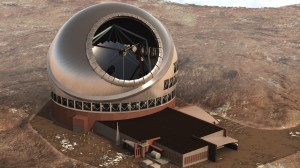 Images courtesy TMT.org | Voice of Stephanie Salazar
On Friday, the Board of Land and Natural Resources gave the OK to the Thirty Meter Telescope project, allowing the state of the art observatory to make its future home on the summit of Mauna Kea.
However, the BLNR also voted to order a contested case on the TMT's conservation use permit, allowing opponents to challenge the decision.
The meeting was held on Oahu, and as usual it drew a variety of public testimony, both for and against the development in the sensitive conservation district.
It is not yet known where the contested case will take place, but the hearing will take months to be completed.
Meanwhile, TMT has two years to begin construction, and it must be finished within 12 years. However, the construction on the observatory cannot begin until the contested case is decided.