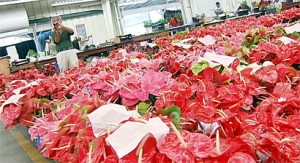 Video by David Corrigan | Voice of Stephanie Salazar
It may have been a mandatory five day recess for the state legislature, but these East Hawaii lawmakers were hard at work, touring several Big Island institutions that are regarded as leaders in innovation.
Senator Malama Solomon coordinated a fast paced, two-day informational visit for seven State Senators and two State Representatives this weekend. The purpose: "To inspire out-of-the-box thinking and quality, clean-green job creation," according to a media release.
Big Island Video News caught up with the tour at the Green Point Nursery in Panaewa, where the local leaders got a first hand education on the challenges – and successes – of the long time, Tanouye family business.
Solomon says she is introducing legislation in Honolulu that will help agricultural based business like Green Point Nursery, like SB115, which authorizes the Agribusiness Development Corporation "to issue revenue bonds to finance intrastate marine transportation options to assist agricultural and maricultural product producers in transporting their products to local markets and consumers." Solomon also introduced SB118, which "transfers the agricultural parks program from the DOA to the Agribusiness Development Corporation (ADC). Transfers promotion and marketing of agricultural products from DOA to ADC. Authorizes ADC to provide equity financing to farmers to improve farming activities."
The lawmakers also visited Kamuela Vacuum Cooling Plant, Puna Geothermal Venture, the summit of Mauna Kea, Pacific Basin Agricultural Research Center, and Hamakua Springs Country Farm.