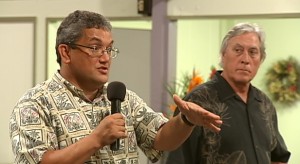 Video by David Corrigan | Voice of Stephanie Salazar
The budget was one of the main topics of discussion at the mayor's talk story in Waimea on Monday night.
A modest crowd filled the New Hope Christian Fellowship Church to hear the mayor talk about his administration's accomplishments and challenges.
The meeting was a little late to begin, thanks in part to an accident here on Hawaii Belt Road in Hamakua. Traffic was backed up at the third horseshoe – Kaawalii Gulch – because of a vehicle crash, which forced the mayor to turn around and take Saddle Road.
The mayor told the attendees that if balancing the county budget wasn't enough of a challenge, the loss of federal earmarks was another blow to local government.
Public Works director and Waimea resident Warren Lee was on hand to discuss the Lindsey Road Extension project and where it currently stands. A land swap between Parker Ranch and the Department of Education will facilitate the straightening of the alignment of the future extension road, and will allow for the eventual expansion of the Waimea Elementary/Middle school campus.
As expected, the contentious topic of Ke Ala Kahawai O Waimea – or the Waimea Trails and Greenways – was broached. Parks and Recreation director Bob Fitzgerald assisted the mayor in explaining the administration's stance on the proposed project, which will be a 4.8-mile long multi-use following the meandering route of Waikōloa Stream. The trail will provide an accessible, connecting pathway between residences, businesses and schools, and extend from Church Row to a future County park site on Kawaihae Road across the Kamuela View Estates.
Some residents say the path will be an unwelcome concrete eyesore that will attract unwanted traffic. Others say it is a much needed, safe path that will be utilized by school children who will otherwise be walking on the side of the highway en route to class.
The mayor heads to Pahoa on Wednesday, March 2nd at 6:30 pm for his next community talk story.