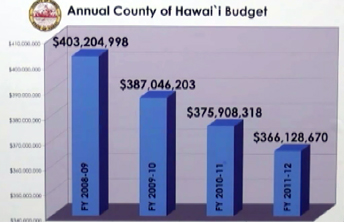 Video courtesy Office of the Mayor | Voice of Stephanie Salazar
"There's no property taxes being raised on anyone in the County of Hawaii."
That's the message from Mayor Billy Kenoi on Tuesday, moments after presenting his initial 2011-2012 budget to the Hawaii County Council, and the public.
The administration has managed to close a $38.8 million dollar budget gap, and has submitted a proposal for a $366,128,670 budget for the 2011-2012 fiscal year, which is 9.2% percent less than the budget that was in effect when Kenoi first took office in 2008.
The latest budget calls for a new $1 fee to ride the Hele-On bus, which is expected to save the county $740,000. The bus system has been free for public use.
The mayor also says that furloughs will come to an end on June 30th, although he and his executive staff will still be furloughed. There will also be large savings this fiscal year through the use of a payroll lag.
The mayor was pleased to announce that there will be no cuts to non profits, and that public safty will be a priority.
The mayor explained to the room full of staff, reporters and councilmembers that putting the budget together was a tough job.
Now, with the meat of the budget work out of the way, the mayor says he can now devote himself to other leadership initiatives, such as growing the island's economy.
For more details on the mayor's proposed county budget, see this media release issued on Tuesday afternoon.