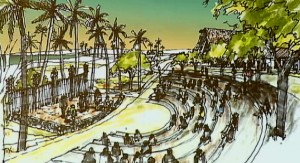 Video by David Corrigan | Voice of Stephanie Salazar
Ka'u residents met in Na'alehu on Wednesday night to hear details on the proposed Kahuku Village project.
Nani Kahuku Aina LLC presented detailed maps and renderings to the crowd at the Naalehu Community Center.
The 16,456 acre property is located makai of the highway and is to the immediate east of Hawaiian Ocean View Ranchos. The development will occupy over 5 miles of coastline.
The village itself will offer affordable housing, and some resort style attractions, like a golf course. Roughly 90% of the property will be held in open space. Developers say they will use a minimum 500 foot setback from the shoreline.
The entire development has been scaled back from the much larger plan of a few years ago.
But the big selling point on Wednesday night was the construction of a 500 acre Hawaiian Heritage Center, which will be controlled by an independent non-profit entity.
After the presentation, officials took questions from the public, but only via written cards. Concerns ranged from water use and disposal, to shoreline access. Before the night was over, a few members of the audience voiced their opinion.