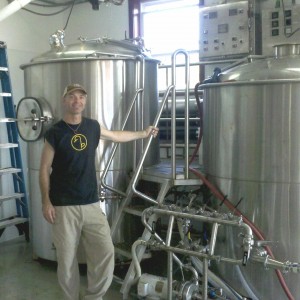 Media release | Friends of Big Island Brewhaus
Kamuela, Hawai'i – March 1, 2011 — Catching the wave of consumer interest in high quality, small batch, locally hand-crafted beer, Hawai'i Island will officially become "home" to a new microbrewery, called Big Island Brewhaus, this Fri., March 4, 2011. The community is invited to the first pouring and tasting of the new brewery's first beers crafted by owner Tom Kerns, a brewmaster whose 20 years experience has won awards at the largest and most prestigious beer competitions on the planet, including five awards from The World Beer Cup, and four at The Great American Beer Festival.
Big Island Brewhaus has four brews in the tanks, so far. Paniolo Pale Ale™, which will be served on March 4th; Aloha Lager™; Overboard IPA™ (India Pale Ale); and a yet un-named Irish Stout, which will be tapped for St. Patrick's Day. All were brewed on site at the new Waimea brewery, which is officially the "highest" in Hawai'i at 2,764-feet above the sea, at Cook's Corner at the intersection of Mamalahoa Highway and Kamamalu Street next to the former Taco Tako Taqueria restaurant, C&S Outfitters and Mountain Road Cycles.
"It is rewarding to see our dreams come true. For over ten years my wife Jayne and I have envisioned owning and operating a public haus – a casual, fun community gathering place here in Waimea that combines great beer, great food and great music." The first step of their dream started with the purchase of Tako Taco, a successful Mexican restaurant in the heart of Waimea. The Kerns have been operating the restaurant since August 2008. The brewery, which broke ground in July 2010, is located adjacent to the restaurant, and gives Kerns four fermenters in which to create his liquid art – and brew his dreams come true. "We are proud to be able to blend so many local elements in our business. From the fresh, island-grown vegetables, fruits, fruit juices and herbs, to grass-fed beef from Hawai'i island ranches, and from the sweet vibes of live local musicians, we strive to respect our planet and enhance our community."
Kerns began his professional brewing career at Oregon's McMenamins Edgefield in 1993, then was invited to open a brewery in Manila, Philippines. In 1997, he became the founding brewer at Fish and Game in Kahana, Maui, and was still brewing and creating original recipes in 2005 when Garrett and Melanie Marrero took ownership of the brewpub and renamed it Maui Brewing Company. He continued as the brewmaster as the Marreros added a production brewery and canning facility in Lahaina in 2007. It was while serving as brewmaster for Maui Brewing Company that Kerns garnered multiple awards in international competitions alongside beers from all over the U.S. as well as Germany, Canada, Australia, Russia, Trinidad, Romania, Lithuania, Belgium, Japan and Singapore.
"The style of beer we are crafting harkens back more than 100 years to the early 1900s when there were small, high quality breweries in most communities. Over time, a few breweries got larger and larger, the process was speeded up, and the flavors became more homogenized," said Kerns, whose beers take about a month to brew, ferment and condition.
"We're a family business with just 10 employees working in both the restaurant and brewery; everyone does everything" – except for Kerns himself, who is the creator of the beer recipes and takes the sole lead on the brewing process.
"The community here is truly wonderful. We feel so grateful for all their amazing support," said wife Jayne, "and for the relationships we enjoy with our customers, neighbors, local farmers, ranchers and musicians."
Community festivities on Friday will include live music at 6 p.m. by Dan Brauer, guitarist for Leche de Tigre.
Fresh island Mexican cuisine, hand-crafted sodas, beers and fine tequilas are served Mondays through Saturdays from 11 a.m. to closing, and Sundays from Noon to 8 p.m.. Big Island Brewhaus is family oriented and open to all ages. Consumption of alcoholic beverages is, of course, limited to persons age 21 & over.
There is live music three nights each week, including Original Music night each Tuesday, Open Mic on Thursday, and Fridays feature a variety of local musicians.
Guests are invited to dine in, take-out, or call ahead (887-1717) for drive-through service.
Big Island Brewhaus will officially introduce their new beers at the 16th Annual Kona Brewers Festival from 2:30-6:30 p.m., Sat., March 12, 2011 at King Kamehameha's Kona Beach Hotel, and will also feature samples of their fresh island Mexican cuisine.
http://www.worldbeercup.org/past_winners.html
http://www.greatamericanbeerfestival.com/the-competition/winners/past-winners