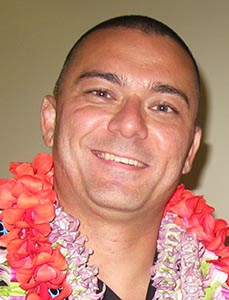 Media release | Hawaii County Police Department
The Kona Crime Prevention Committee recognized Officer Calvin Delaries as "Officer of the Month" for March in a luncheon ceremony on March 2 at King Kamehameha's Kona Beach Hotel.
Delaries was honored for his role in a drug arrest while acting as the Community Policing liaison to the Police Department's newly-formed Special Enforcement Unit in West Hawai'i.
After observing a suspected narcotics transaction in the parking lot of a local shopping complex, Delaries determined that two men in the suspicious vehicle had outstanding arrest warrants. He arrested them and found crystal methamphetamine and drug paraphernalia in one of their pockets. A search warrant of the vehicle led to the recovery of more crystal meth, marijuana and drug paraphernalia. Additional investigation resulted in several drug charges against the suspect.
Lieutenant Harold Sumaoang, who nominated Delaries for the honor, gave him much of the credit for the successful conclusion to the case. "Through his actions and efforts, Officer Delaries has continued the preservation of the quality of life here in Hawai'i that we are accustomed to, while being guided by the department's core values, Mission and Vision Statements," Sumaoang said.
As "Officer of the Month," Delaries is eligible to become "Officer of the Year."
The Kona Crime Prevention Committee is an organization that encourages community involvement in aiding and supporting police in West Hawai'i.