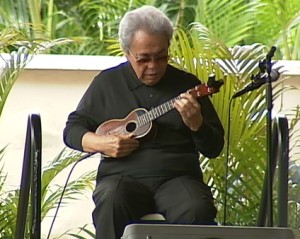 Video by David Corrigan | Voice of Stephanie Salazar
We continue our coverage of the Great Waikoloa Ukulele Festival, which happened this past Saturday at the Queens MarketPlace at the Waikoloa Beach Resort.
When Big Island Video News covered the same event in 2009, we were lucky enough to capture living ukulele legend Herb Ohta, known to fans around the world as Ohta-San. In this video, Ohta joined festival organizer Roy Sakuma on stage. Sakuma, a master ukulele player and teacher who was himself mentored by Ohta, explained with joy the relationship he has with the ukulele legend.
Well, this year we found Ohta at it again; plucking away before a large audience. As he did in 2009, the 74 year old musician was played by the side of jazz musician Nando Suan. And it appeared as if Ohta-San has not missed a beat.
Join us tomorrow for one more story from the Great waikoloa Ukulele Festival… when we bring you pehaps the most inspirational talent of them all.