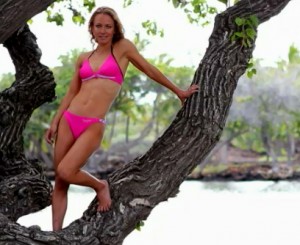 Video courtesy Triathlete.com | Voice of Stephanie Salazar
The Big Island continues to cement its identity as the center of the triathlon universe.
Leading the charge amongst Kohala Coast resorts has been The Mauna Lani Bay Hotel & Bungalows. Just this past week, Mauna Lani was host to a team from Triathlete Magazine, providing the scenic backdrop for the publication's annual swimsuit issue.
Each year the magazine produces a swimsuit issue with 'easy on the eye' triathletes from around the globe. Triathletes from the mainland, South Africa, Brazil, Canada and Scotland will be visiting the luxury resort.
Nils Nilsen, Photo Editor of Triathlete Magazine, spoke highly of the publication's relationship with the resort in this video release.
The economic impact of major sporting events in Hawaii, including the Ironman World Championship in October, is more than $224 million annually, according to figures released by the Hawaii Tourism Authority.