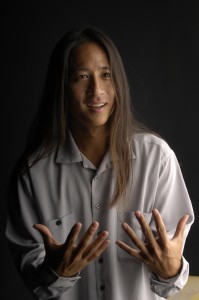 Media release | Waimea Middle School
WAIMEA MIDDLE SCHOOL STUDENTS EXCITED TO 'SLAM POETRY' WITH INTERNATIONAL ARTIST KEALOHA
"Slam Poet Kealoha's presence at Waimea Middle Public Conversion Charter School absolutely revolutionizes what we are doing here," says Principal John Colson.
"When I was in school, you couldn't have paid me to get up in front of an audience and present something I wrote," says Colson, who admits he almost turned down a job once because it involved public speaking. That was a long time ago – before he became Headmaster at Hawai'i Preparatory Academy, and later, Principal of Kamehameha's middle school in Kea'au and now Chief Education and Executive Officer of Waimea's public conversion charter school.
But Colson's point remains the same: Getting middle school adolescents up to present poetry in front of their families and peers is a miracle, but that's exactly what Hawai'i Slam Poet Kealoha succeeds in doing when he comes to schools to work with Language Arts classes. His goal: to inspire and compel students to develop a love of words, performance and – most important – telling their stories.
This is what is in store for families and community friends at Waimea Middle School's 2nd Annual Student Poetry Slam! – aka, a Language Arts Family Night with Slam Poet Kealoha — from 5-7 p.m., Thurs., March 10, 2011 in the school cafeteria. After working with WMS' 6th-8th grade students for several weeks in Language Arts classes, more than 30 of the students have excitedly signed up to present to a full house of family and friends.
For those who know Slam Poet Kealoha – this comes as no surprise. An internationally acclaimed poet and storyteller who in 2010 was selected as a master artist for a National Endowment for the Arts program, Kealoha is the first poet in Hawai`i history to perform at a governor's inauguration. His "New Day" poem earned a standing ovation from newly inaugurated Gov. Neil Abercrombie and a surprised audience of several thousand — surprised because most were clueless about slam poetry and Kealoha.
For those not familiar with slam poetry, the term, "slam" comes from baseball and bridge terminology, indicating a big hit or successful play. Slam poetry is an art form that first emerged in the 1970s in which a poet creates and then reads or recites original work, or, more rarely, that of others. Props, costumes and music are generally forbidden. Slam poetry has grown in popularity – especially with teens — because it encourages exuberant self expression that's fun.
For those not familiar with Kealoha (that's how he's best known though his full name is Steven Wong), this talented young man came to the world of slam poetry circuitously. Born and raised in Honolulu and of multi-ethnic heritage, he spent most of his childhood as a closet nerd, hiding his academic interests by spending most of his time on soccer, basketball, theater, break dancing, surfing and hula. Although he was enrolled in honors Math, Science, and English classes, only a handful of people knew that he was ranked 9th in the nation in the National Math League, and that he got a perfect 800 in his math SAT's. Therefore, it came as a surprise to his peers when he announced that he would attend the Massachusetts Institute of Technology (MIT), the top school in the nation for science and engineering.
After graduating with honors in nuclear physics from MIT, Kealoha made a radical career switch by going into management consulting. He saw it as a great way to learn about the business world and as a chance to try something new. Despite success, the work was not satisfying and he came home to Hawai`i to reconnect with family and with nature. Using his savings and sleeping on his brother Mike's couch, he surfed and hiked daily, ate mangos and continued a new-found love of writing poetry. He became hooked on poetry and performance, and one thing led to another including many national and international performances and awards. Today, Kealoha devotes a lot of his time as a "Hawai'i Artist In The Schools" mentor helping youth find their "voices." This includes most of Waimea Middle School's 6th-8th graders.
Waimea families and the entire community are invited to enjoy the fruit of Kealoha's Language Arts lessons, which were funded by a Hawaii State Foundation on Culture & the Arts' "Artist in the Schools" grant secured by WMS Language Arts teacher Leesa Robertson.
WMS' Student Slam! is free and will begin with a dinner of roast chicken with a fresh garden green salad. Everyone is invited but an RSVP is requested. Students and families are asked to confirm attendance via their Homeroom advisors. Community friends are asked to RSVP by calling Patti Cook (937-2833) or email cookshi@aol.com.
For more information on Slam Poet Kealoha, go to www.kealohapoetry.com.