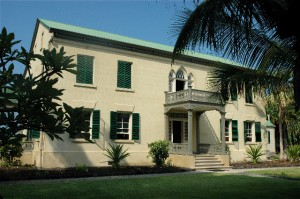 Media release | Fern Gavelek Communications
TSUNAMI HITS HULIHE'E PALACE, ONLY BASEMENT FLOODED
NEWLY RENOVATED CARETAKER COTTAGE OFF FOUNDATION
KAILUA-KONA — The main floors of Hulihe'e Palace were spared the wrath of this morning's tsunami, which inundated Ali'i Drive in Kailua Village. While the basement of the palace is flooded, there was no water damage to the first floor of the seaside historic landmark.
"From what we can see with the naked eye, it looks like we're okay," says long-time palace administrator Fanny Au Hoy. She said plans are in the works to pump water out of the basement and a structural inspection will need to be completed.
The palace's newly renovated caretaker cottage didn't fare so well. It is off its foundation and the adjacent Ki'ope Pond, which was used in ancient times by Hawaiian royalty for aquaculture, suffered damage to its mauka wall.
"It looks like water came into the pond, surged, and then washed under the cottage," details Au Hoy.
The next-door Kuakini Building, which houses the palace's kitchen and gift shop, suffered interior water damage. The top of the seawall along the oceanside lawn of the palace was also damaged.
Au Hoy reports several treasured artifacts were removed from the landmark last night in anticipation of the tsunami. "We filled three vehicles," she shared.
The palace, which is managed by the Daughters of Hawai'i, will remain closed until further notice.
Hulihe'e Palace reopened in September 2009 after receiving a $1.5 million renovation to repair damage suffered in the October 2006 earthquake.
HULIHE'E PALACE CARETAKERS — Founded in 1903, the Daughters of Hawai'i opens its membership to any woman who is directly descended from a person who lived in Hawai'i prior to 1880. Helping the Daughters in their efforts since 1986 are the Calabash Cousins; membership is available to all, 329-1877, www.daughtersofhawaii.org.