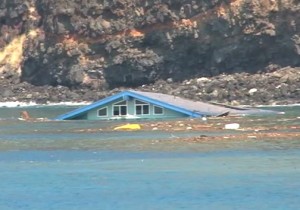 Video courtesy Lynn Beittel, Matt Binder of Visionary Video
The tsunami that washed over Hawaii's shoreline did the worst damage on the western, Kona side of the Big Island early Friday morning.
Kailua Village was hit hard, but it was the remote areas of South Kona that sustained the most severe wallop.
The image of a home floating in Kealakekua Bay became a national curiosity, and has become an immediate icon representing the extreme wave damage that the Napoopoo area sustained on Friday.
The two-story home is said to have been a vacation rental on Manini Beach, during its days on land.
What follows in this raw video provided by Lynn Beittel and Matt Binder are images that show the aftermath of the frightening strength of the ocean surge. Hawaii County confirms that seven homes suffered extensive damage on Manini Beach Road near Kealakekua Bay. Power lines also were downed in the area.
The footage also shows a number of vehicles in the area that were damaged.