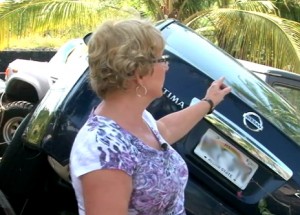 Video courtesy Lynn Beittel, Matt Binder of Visionary Video
A chilling story of survival is told by Valerie  Hawkins, who along with her husband was caught by the rushing tsunami waves while in their car.
Hawkins was vacationing in Hawaii from Calgary, Alberta, Canada – on her birthday, no less, when she was caught up in the destructive tidal force that originated from an 8.9 earthquake in Japan.
Amidst the wreckage of homes and other destroyed vehicles at Napoopoo, Hawkins recounts the traumatic brush with death during the tsunami incident that caused considerable damage in Kona, Hawaii, especially in the Kealakekua Bay area.
Reports from scientists with the Pacific Tsunami Warning Center have said that waves washed 100 feet inland at the Napoopoo location on the Big Island, and that wave heights reached an estimated 11 to 12 feet, maybe more.