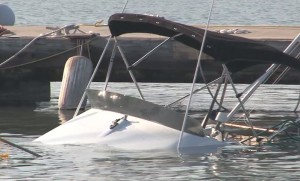 Video courtesy Lynn Beittel, Matt Binder of Visionary Video
Although most boat owners at Kona's Honokohau Harbor on the Big Island were able to get their vessels to a safe place before the tsunami surge hit Hawaii, their were some watercraft casualties.
One boat that was tied down at the harbor sank under the damaging waves, and another was reported to be floating about the area loose from its moorings.
The damage at Honokohau was minor compared to how some of the other state small boat harbors fared in the incident.
In this video, Hawaii visitor Pat Feik from Oregon recounts her visit to the island, her evacuation from a hotel on Alii Drive, her night of refuge at a Kona high school, and her state of limbo as she is unable to return to her room due to flooding.
As Fiek explains, between the recent Kilauea volcano eruption and the tsunami, it has been a week to remember on the Big Island of Hawaii.