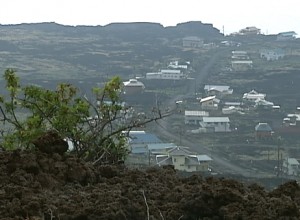 Video by David Corrigan

While the two story condo in Napoopoo Village that was swept into Kealakekua Bay has gotten most of the attention in the media, it was apparently not the only structure claimed by the surging tsunami that hit Hawaii Island.
According to State Senator Gilbert Kahele, the remote seaside fishing village of Milolii, as well as the areas of Honomalino Bay and Kapua Bay, also suffered some damage. Kahele, who was born in Milolii, says the reports that he received indicate that there may have been two or three more structures taken by violent waves.
A concise count of how many homes were swept to sea in this area has not been made available. These areas are so remote that word can travel slowly to and fro. The County Civil Defense Agency stated that they did recieve reports of homes off their foundations in these areas. Councilmember Brittany Smart later confirmed that she has seen two structures that had been knocked into the ocean during a site visit.