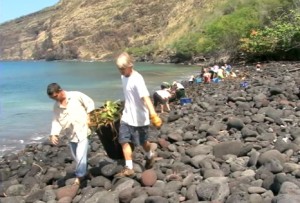 Video courtesy Lynn Beittel, Matt Binder of Visionary Video
The local community gathers at the sacred Kealakekua Bay to help the village of Napo'opo'o, which was devastated by the recent tsunami that hit Kona on the Big Island.
Cars, homes and rubbish were left scattered around the village when the waters finally receded on Friday. One two story condo was left floating in the waters of Kealakekua Bay, an iconic image of the destruction felt on Hawaii's shore after a 9.0 earthquake destroyed parts of Japan.
Local folks like Jim Medeiros and Celeste Eaton took a moment to talk story as they community cleaned the debris. Rufus, Lono and Alex took tackled the challenge of salvaging what they could from the structure that sank into the bay. Alex, who went in first the day before, said he grabbed family photos and heirlooms first, before returning on Sunday with the help of his friends.
Keeping things in perspective, Haleaka Pule, kahu of Kealakekua Bay's shoreline temple known as Hikiau Heiau, said the residents of the area are actually in a state of grace.
"We are not even comparing it to what went on there in Japan," she said. "We are very thankful nobody got hurt. Everybody is alive."