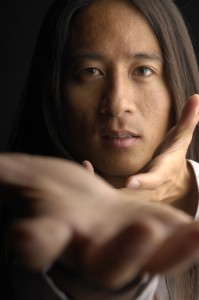 Media release | Volcano Art Center
The Volcano Art Center's popular poetry slam continues in 2011 on March 18 at 7:00 pm in its new home, the Hale Hoomana Performance Hall Campus, 19-4074 Old Volcano Rd in Volcano Village. The Art Center is again proud to announce that our special Slam Emcee host will be the incredible Kealoha. Kealoha is an internationally acclaimed poet and storyteller. He is the first poet in Hawai`i's history to perform at a governor's inauguration, and in 2010 he was selected as a master artist for a National Endowment for the Arts program. In the 7 years that he has represented Hawai`i at the National Poetry Slam, he has performed on the finals stage 4 times, was ranked in the top ten of the nation's best poets in 2007, and was honored as a "National Slam Legend" in 2010. He is the founder of HawaiiSlam, Youth Speaks Hawai`i (2-Time International Champions), and First Thursdays (the largest registered slam poetry competition in the world with an average attendance of 600+). Kealoha has served as Hawai`i's SlamMaster since 2003, and has been on the Artists in the Schools roster since 2005. He has featured at hundreds of live venues throughout the world including the Nuyorican poets cafe (New York City), the Bowery Poetry Club (New York City), the Green Mill (Chicago), the Schiffbau (Zurich, Switzerland), the Rokerij (Amsterdam, Netherlands), the Bienal do Ibirapuera (Sao Paulo, Brazil), and the 2007 NFL Pro Bowl halftime show. In the genre of storytelling, he has gained national recognition by showcasing at high profile events such as the National Storytelling Network Conference, the Bay Area Storytelling Festival, and the Honolulu Storytelling Festival. "We do truly consider it an honor to have such an amazing talent as Kealoha join us in Volcano as we continue to celebrate the art of the "written word. We want to bring the best artists to the Big Island and once again I think we have." stated Concerts and Performance Coordinator David Wallerstein. "Come up as this is going be a hot one!"
Kealoha was featured on HBO's Brave New Voices series presented by Russel Simmons, and he is the poetic vocalist for Henry Kapono's "Wild Hawaiian Experience" (nominated for a Grammy).  In the literature world, his poetry has been published by Bamboo Ridge, Real Word Magazine, and Auckland University Press.  His poetry performances have also been recorded on albums such as Hapa's "Maui" (winner of 4 Na Hoku Hanohano awards and the Hawai`i Music Award for "Album of the Year"), the Mana Maoli compilation (featuring Jack Johnson and John Cruz), and a full-length spoken word CD entitled Kealoha.  He has performed 4 times on the "World's Greatest Poetry Slam" DVD series (2004, 2005, 2007, 2008), was featured in the film "Get a Job" starring Willie K and Eric Gilliom, and starred in the movie "Hawai`i Slam: Poetry in Paradise."  Kealoha has made dozens of television appearances, including two performances for the Na Hoku Hanohano Awards, PBS's Long Story Short (with Leslie Wilcox), and the State of Hawai`i's "Can't Fool the Youth" anti-smoking campaign that he wrote, performed, and co-directed.
Kealoha has shared the stage with Kenny Loggins (Multi-Platinum/Multi-Grammy Winner), Jack Johnson (Multi-Platinum Recording Artist), Ben Harper (Multiple Grammy Winner), Willie Nelson (Multi-Platinum/Multi-Grammy Winner), Damian "Junior Gong" Marley (Multiple Grammy Winner), Jason Mraz (Multi-Platinum/Multi-Grammy Winner), Michael Franti (Spearhead), Don Carlos (Reggae Legend), Konishiki (Champion Sumo Wrestler), Medusa (Grammy Winner), and countless numbers of slam poetry superstars. He has also collaborated with artists such as Henry Kapono (Grammy Nominee), Hapa (Multiple Na Hoku winners), Makana (Slack Key Virtuoso), Willie K (Grammy Nominee), Mick Fleetwood (Multi-Platinum/Multi-Grammy Winner), and Jason Scott Lee (Actor).  Finally, he has conducted workshops at over 200 distinct schools, libraries, prisons, and community centers throughout his career (including a Master's Workshop at the Bamboo Ridge Writer's Institute) alongside writing leaders such as Michael Arndt (Toy Story 3), Maxine Hong Kingston (The Woman Warrior), and Witi Ihimaera (The Whale Rider).
The Volcano Poetry Slam" takes place at Volcano Art Center's Niaulani Campus in the Hale Hoomana Performance Hall, located in Volcano Village. Poetry Slam Night, there will be dinner, drinks, and desserts for purchase. Ticket price is $8.00 at the door.
Volcano Art Center is a 501c3 nonprofit educational organization created in 1974. VAC promotes, develops, and perpetuates the artistic, cultural and environmental heritage of Hawai'i through the arts and education.