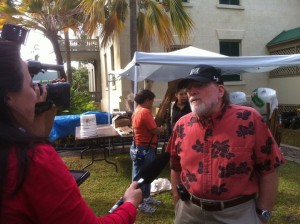 Video courtesy Hawaii County Office of the Mayor
Today, Governor Neil Abercrombie visited areas on the Big Island of Hawaii that were damaged by the tsunami that swept through the islands last week.
Governor Abercrombie has renewed his efforts in seeking federal money by signing a supplementary proclamation to expand the State of Disaster Proclamation he signed on Friday. The proclamation is the first step in the process of seeking and receiving federal funds to recover and rebuild.
Governor Abercrombie has assigned Lt. Governor Brian Schatz to oversee efforts to ensure that Hawaii maximizes all federal recovery dollars for our tsunami victims. The Lt. Governor will explore all possible opportunities, including recovery loans for businesses and residents through the Small Business Administration and other organizations.
State Civil Defense teams and the Department of Land and Natural Resources continue to lead the efforts in assessing all areas that have been affected. These areas include:
Oahu: Haleiwa, Keehi Lagoon
Hawaii: Honokohau Harbor, Milolii, Kailua-Kona, Kealakekua
Maui: Kahului, Kihei, Spreckelsville
Molokai: Kamalo
These locations have damage to government facilities, private businesses and residential property. The combined damage is in the tens of millions.
In this video, the governor is seen touring the damaged ares with Hawaii County Mayor Billy Kenoi, stopping at the King Kamehameha Hotel on AliiDrive. He later visited Kealakekua and also attended part of a Hawaii County Council meeting discussing the tsunami damage.
For more information about the State of Disaster Proclamation, please visit http://hawaii.gov/gov.