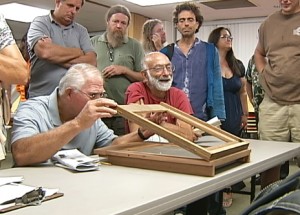 Video by David Corrigan | Voice of Stephanie Salazar
Facing decimation from the infestation of the Small Hive Beetle (or SHB) Big Island beekeepers gathered in Hilo for a free SHB Trap and Equipment Expo on Tuesday.
Big Island Beekeeper Association president Cary Dizon said the pest has become prolific in Hawaii's hives, and that the SHB is the number one problem that needs to be addressed, even before the varroa mite can be taken care of.
Gathering at the Komohana Research and Extension Center of CTAHR – the UH Manoa College of Tropical Agriculture and Human Resources – the beekeepers shared tactics for getting the beetle under control, and demonstrated equipment designed to handle the problem.
The small hive beetle was first detected in Panaewa in May 2010. Beekeepers had already been struggling with the varroa mite, which invaded Hawaii Island in 2008. By 2009, the mite had become established around the entire island.
The combination of the two pests is brutal one-two punch for apiarists. However, Dizon says there is hope. The hives that do survive will likely have a resistance to the pests.