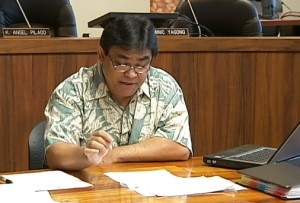 Video by David Corrigan
Last week, we filmed the reaction of Hamakua Councilman Dominic Yagong to the mayor's proposed budget. The council chair said he is "deeply concerned" that the budget defers too much to an uncertain economic future.
Yagong and his staff have gone over the budget carefully, and presented their detailed findings at a press conference held on Friday in Hilo.
Yagong said it might be worth taking another look at the remaining unfunded vacant positions. The mayor has already cut about 100 unfunded vacant positions from the budget.
Yagong is also asking the public to consider the two day a month county furloughs, which the mayor plans to restore in his proposed 2011-2012 budget.
Yagong is also casting an eye on the police and fire departments, who have not been furloughed, and instead recieved pay raises – as approved four years ago.
There is a special public hearing on the budget scheduled for tonight. Because of an OIP interpretation of the sunshine law, the ad hoc committee on the budget, which includes Yagong, will not be allowed to be present at the hearing.