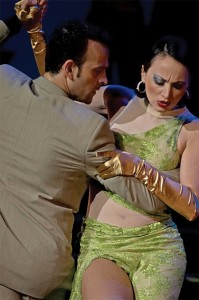 Media release | Hawaii Performing Arts Festival
Tango Extravaganza!  Now At Hapuna Beach Prince Hotel
Hawaii Performing Arts Festival has announced a change of venue for its tango concert on Tuesday, April 5. Showcasing the art of the tango and featuring world class dancers and tango musicians, the concert will now take place at the Hapuna Beach Prince Hotel. The event was originally scheduled at Four Seasons Resort Hualalai, which is now closed until April 30 due to tsunami damage. Proceeds will go toward HPAF's seventh season taking place next summer in Waimea.
The year 2011 marks the 90th birthday of the late Astor Piazzolla, Argentina's premier composer of Nuevo Tango. To celebrate, violinist Iggy Jang is bringing critically acclaimed performers of the genre to Hawaii…Grammy-award winner bandoneon player Raul Jaurena, pianist Alfredo Minetti, and Tony-award winning dancers Guillermo Merlo and Fernanda Ghi. The group will be joined by Hawaii favorites, guitarist Jeff Peterson and bassist John Gallagher. Kona's own Mango Tango will perform from 6:30-6:50, and local tango dancers will be invited to dance.
Better known as the concertmaster of the Honolulu Symphony and a classical violinist, concert organizer Iggy Jang experienced the joy of all kinds of music growing up. "During my youth in Paris, I lived to see many colors abound–cultural, human, historical, and gastronomical. Although Tango originated in Argentina, it was omnipresent in the streets of Paris; Astor Piazzolla actually spent time there to hone his composition skills. Perhaps unconsciously, that appreciation for Tango got ingrained into my DNA. And while it became dormant for a while, about 20 years ago I felt an electrical jolt inside of me when I first heard Piazzolla's Zero Hour recording. Ever since then, it has always been my desire to pay homage to the composer. Not through some crossover arrangements of his music, but through the "real thing:" A Piazzolla quintet: piano, violin, bass, electrical guitar, and most of all, a bandoneon."
Located at the crossroads of the Western and Eastern worlds, Hawaii offers diversity of all kinds as well. Music is such an immense universe, and there is so much to discover."
"Tango offers extraordinary colors, as well as a cultural parallel with Hawaiian art forms: to tell a people's story through musical language. And not just informative, the show is sure to be tremendously exciting." Jang is deeply grateful to his eminent musical partners for sharing the stage with him, and believes that Hawaii audiences will be equally delighted.
Jang was recently featured in Donald Womack's CD "Walk Across the Surface of the Sun" and Jake Shimabukuro's "I love Ukulele.". Other recent collaborations include artists Jon Kimura Parker, Sean Botkin, Rachel Barton, Hillary Hahn, Franz Helmerson and Helen Huang.
Now in its seventh year, Hawaii Performing Arts Festival is an international music training and performance program featuring over 15 classical, chamber, musical theater and opera concerts, most of them free to the public. HPAF brings together students and renowned faculty to study and perform together. Ignace Jang is instrumental director of HPAF. For more information, visit the festival's website at www.hawaiiperformingartsfestival.org. The festival's 2011 season is made possible in part by Dr. John Stover.