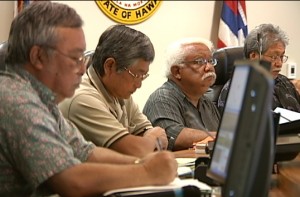 Video by David Corrigan | Voice of Stephanie Salazar
The public had a chance to weigh in on Mayor Billy Kenoi's proposed budget on Monday night.
It was a relatively small crowd that showed up to provide comment on the preliminary 2011-2012 budget plan. The mayor has managed to close a $38.8 million shortfall without raising taxes or laying off government employees. However, the budget does defer millions of dollars in expenses to future budget cycles, a maneuver that made council chair Dominic Yagong "deeply concerned", as stated in a recent press conference.
Some of those giving their opinion on Monday night echoed Yagong's fears.
Still, some testifiers in Kona – who could not be seen by teleconference due to technical difficulties – hoped the budget might provide funding for things like road and bike path infrastructure, arts and culture.
The biggest interest group in attendance was the pro-pakalolo contingent – who told the councilmembers that the county wastes a substantial amount of money prosecuting marijuana cases.
But it was oft-present council meeting attendee Tim Reese who admonished the general public for not voicing their opinion on this very important matter.
"The public gets exactly what the public deserves." said Reese. "Here we are talking about one of the most critical budgets this county has ever seen, and there's hardly anybody here."