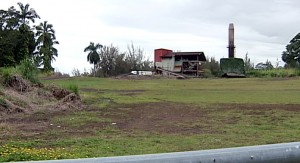 Video by David Corrigan | Voice of Stephanie Salazar
The hearings officer in the Hu Honua Bioenergy contested case has recommended that the Windward Planning Commission approve the proposed amendment to the facility's Special Management Area.
The Hawaii County-appointed hearings officer, attorney Robert Crudele, recommends approval based on a number of provisions… Hu Honua must meet all county, state and federal regulations, rules for noise control, and runoff & drainage treatment.
Crudele also recommends the provision that fuel truck deliveries shall be permitted only between the hours of 6:00 A.M. to 6:00 P.M. … and the use of "jake brakes" shall be prohibited on Sugar Mill Road.
It is also recommended that Hu Honua be mandated to finish the project within 5 years of permit approval.
Hu Honua Bioenergy LLC is converting the former Hilo Coast Power Company plant at Pepeekeo into a modern biomass energy facility. After sugar operations ceased, the facility operated for many years as a coal-fired power plant. Once operational, Hu Honua will produce 24 megawatts of power, about 10 percent of the island's electrical needs and about enough for 14,000 homes.
The project has been opposed by Pepeekeo residents living in the immediate area.
Meanwhile, Hu Honua issued a second draft air permit in February for public review.
Rick McQuain, president of the bioenergy company, says the second draft tried to be responsive to the concerns that were expressed by residents.
But local residents like Gary Fa'agau, who was one of the inteveners in the contested case, are not so confident.
Fa'agau, an active resident of the Orchards at Pepeekeo, blasted Hu Honua during a recent "road block" demonstration on Sugar Mill road, a few blocks away from the location of the power plant.
These residents are not the only ones making assertions… an independent analysis of the air permit by the non-profit research and science organization, "Partnership for Policy Integrity", claims that QUOTE "pollution estimates for the plant are reverse-engineered to fall close to but just below thresholds that would trigger more effective pollution controls."
The PFPI Group also says that QUOTE "an e-mail from consultants working on the proposed Hu Honua biomass power plant… strongly suggests that developers lowballed pollution numbers in their state air permit application in order to avoid necessary air pollution controls."
McQuain admits Hu Honua faced a challenge in figuring out the changing rules for "Maximum Achievable Control Technology", or MACT, but ultimately met the required standards.
The comment period for the draft air permit has closed, and will now go before the EPA.