Volcano Watch | USGS Hawaiian Volcano Observatory
HVO scientists were shaken out of their weekend routine when, at 1:42 p.m., on Saturday, March 5, 2011, the seismic tremor alarms started and, at 2:16 p.m., the floor of Pu`u `O`o crater began to collapse. A rapidly dispatched HVO overflight saw fountaining just west of Pu`u `O`o, beginning around 5:00 p.m. Then darkness fell, and the only way to observe what would happen next was to make the long hike out to the eruption site on foot. HVO's Scientist-in-Charge decided that a small group of scientists, including me, should make that journey.
At 7:00 p.m., our group began hiking east from the Mauna Ulu parking lot, with headlamps illuminating the trail. The going was slow as we cast our beams ahead to find each successive ahu (rock cairn). Orange glow from the lava fountains in the distance provided a nighttime beacon.
The nine-mile hike took us past Mauna Ulu, then Makaopuhi Crater, through Napau Crater and across the cinder fields to the east. By this point, the glow was muted, and we came upon a cooling lava flow field devoid of any fountaining. Glow in the cracks, scattered brush fires, and several new steaming fissures testified to the recent activity, but otherwise it was disappointingly quiet.
After a time, we called in our report and started hiking back home. At 12:30 a.m. we reached Napau campsite and paused for a drink. Suddenly, we heard loud gas jetting through the trees, and the night sky to our east was lit up in brilliant orange.
From the western rim of Napau Crater, we could see that activity had resumed at the eruption site. A spectacular line of fountains, reaching above tree level, played for an hour, then rapidly died. We waited at the edge of Napau, huddled under tarps in the cold, for several hours to see what would happen next.
By 4:30 a.m., fountaining at the eruption site had resumed, and, within an hour, we were again at the eruption site. A cone had already been built, and small "strombolian" explosions were occurring in the cone's crater. Strombolian activity, named after Stromboli Volcano in Italy, is characterized by small, pulsating explosions that are gas rich, with relatively sparse particles.
Observing from a safe distance, we recorded GPS position and ejecta height. The sight was eerie, with roaring lava bubbles bursting and casting incandescent particles in the darkness. Suddenly, a loud sound from the west started behind us, where we had just come from. Once again, gas jetting and bright glow alerted us to a new fissure. Now, unsettlingly, we had activity to the east and west of us.
We rapidly headed west to observe the new fountaining, as well as to ensure a safe escape route. Fortunately, the fountaining was well south of the trail. It consisted of a 100-m (330 ft) long line of fountains, with ejecta reaching 20 m (66 ft) in height.
At daybreak, the sky was lavender with sunrise and lava fountains continued to play at the western fissure in incandescent hues of red, orange and yellow. They fed a rapid lava flow that cascaded for several hours into a seemingly bottomless crack.
During the peak of activity, large clots of lava spatter were thrown 30 m (100 ft) into the air, building spatter ramparts around the base of the fountain. Gas-rushing and jetting sounds combined with the slapping and pounding of spatter as it hit the ground. Every hour we radioed the observatory with activity reports.
The eruption site was soon occupied by other busy HVO scientists conducting lava sampling and tracking gas chemistry to discern whether old or new magma fed the eruption. Others measured ground deformation to get a sense of the size of the dike feeding the eruption. Throughout the day, the vigor of the fountaining fluctuated and, more interestingly, moved back and forth across the fissure system. By afternoon, our water and energy were spent, and we headed back to HVO to file our reports.
A Webcam installed that day permitted HVO scientists to monitor the eruption site from the observatory, though fieldwork continued in subsequent days. Fountaining eventually ceased on Wednesday, March 9, and the Kamoamoa fissure eruption—amazing as it was—had ended.
Kilauea activity update
Since the Kamoamoa fissure eruption ended on the evening of March 9, no lava has been erupted on the east rift zone. The floor of Pu`u `O`o is still filled with rubble, and there is no active lava anywhere on the Thanksgiving Eve Breakout (TEB) flow field.
DI events have returned to the summit this week. During the inflation phase, the lava lake appears deep within the Halema`uma`u Overlook vent and disappears from view during the deflation phase. Several small rock falls within the vent cavity have also occurred this week. Along with the current low levels of activity, the volcanic gas emissions have decreased over the past week but remain elevated, resulting in high concentrations of sulfur dioxide downwind.
Two earthquakes beneath Hawai`i Island were reported felt this past week. A magnitude-3.1 earthquake occurred at 5:48 a.m., HST, on Friday, March 18, 2011, and was located offshore, 20 km (13 mi) northwest of Kailua-Kona. A magnitude-2.3 earthquake occurred at 3:35 a.m. on Sunday, March 20, and was located 4 km (3 mi) southwest of Holualoa at a depth of 11 km (7 mi).
Visit the HVO Web site (http://hvo.wr.usgs.gov) for detailed Kilauea and Mauna Loa activity updates, recent volcano photos, recent earthquakes, and more; call (808) 967-8862 for a Kilauea summary; email questions to askHVO@usgs.gov.
Volcano Watch is a weekly article and activity update written by scientists at the U.S. Geological Survey's Hawaiian Volcano Observatory.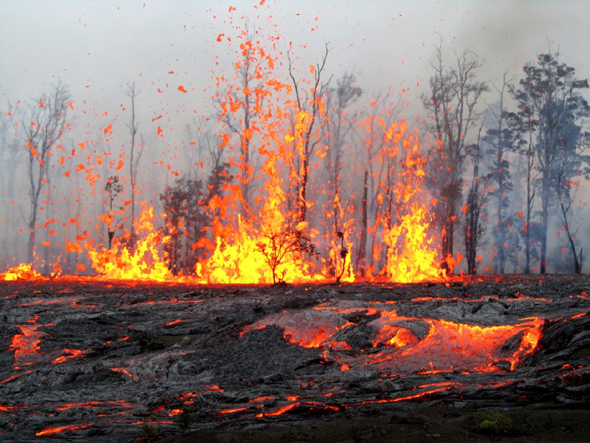 Above: An early morning view of the fountaining we encountered at the western fissure on Sunday, March 6, at 7:20 a.m. Particles were thrown up to 15 m (50 ft) high at this point and the intensity and height increased over the next two hours.