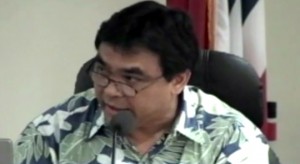 Video courtesy Hawaii County | Voice of Stephanie Salazar
With all the damage surrounding the tsunami that struck Kona last week, some important measures introduced to the Hawaii County Council slipped quietly by in committee with little attention.
One of resolutions to get a positive recommendation in the Finance Committee last Tuesday pertained to the Hamakua lands in Paauilo.
The measure rescinds a prior resolution that authorized the county to sell the lands, which were claimed by the county as a part of a tax settlement with Hamakua Sugar Company. The lands have lay fallow ever since, and numerous attempts to unload the property by different administrations throughout the years have been met with resistance.
The new resolution now authorizes the administration to invite proposals for lease of the lands, an attempt to finally put the land to use by the island community.
The resolution was not unanimously supported. It was only two years ago that a different council, configured under a different majority, voted to sell the lands to balance the budget. Today, Hilo Councilman Donald Ikeda still believes the lands are not worth keeping.
The administration is in support of the plan to lease the lands.