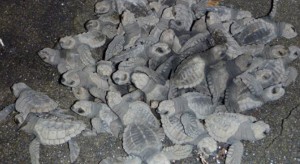 Photos courtesy the National Park Service | Voice of Stephanie Salazar
Between April and January, an estimated 4,000 honu hatchlings reached the ocean with help from more than 40 volunteers who tirelessly monitored the nesting beaches on the Big Island.
2010 marked the 21st anniversary of the Hawaii Island Hawksbill Turtle Recovery Project, a volunteer program started by Hawai'i Volcanoes National Park.
40 nests from 13 turtles at six different beaches on the southern coastline of Hawaii Island were documented and protected. This video is from a hatching in Punaluu in 2009.
One of the highlights for volunteers this year was observing this small turtle with a heart-shaped shell – it was neither a hawksbill nor the more common green sea turtle. It was a rare olive ridley.
This was only the fourth documented olive ridley nesting event in Hawaii. Volunteers had to act fast to move the eggs to higher ground before the nest was washed away.
Here's a photo of the 88 ping-pong ball sized eggs being placed into a container, for transport and re-burial elsewhere.
After two months of volunteers keeping vigil, 76 hatchlings climbed out of the nest and crawled across the sand and into the ocean. Four more emerged over the next few days.
With help from dedicated volunteers, a doomed nest survived. Eighty hatchlings made it safely to the sea for a 90% nest success rate.
Listed under the Endangered Species Act as a threatened species, olive ridleys occasionally stray into Hawaiian waters. More typically, they're found in the eastern Pacific off Mexico and Central America and are best known for their behavior of synchronized nesting in mass numbers, termed arribadas.