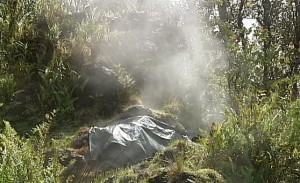 Video courtesy Hawaii County | Voice of Stephanie Salazar
Last Tuesday, there was another change in plans for a resolution passed in 2009.
Current Puna councilman Fred Blas introduced a measure directing the finance department to "cease and desist" negotiations to purchase the famed Pahoa Steam Vents, an initiative started two years ago by the now former Puna councilwoman Emily Naeole.
Blas says there are more pressing needs his district, like the purchase of a new fire truck to replace the ailing one that has been to the shop "hundreds" of times.
The resolution got 8 votes towards a positive recommendation. The only "no" vote came from Donald Ikeda, who supported Naeole's effort to preserve the vents in 2009.
When pressed for an explanation on why the prior resolution to purchase the property had to be nullified, Hamakua Councilman Dominic Yagong came to the aid of Blas with an explanation of his own, saying that it would be unfair to the administration to have them pursue the property if it was not to the desire of the people of the district.