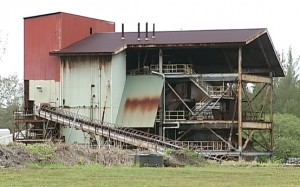 Video by David Corrigan | Voice of Stephanie Salazar
Last week, BIVN reported that the hearings officer in the Hu Honua Bioenergycontested case recommended that the Planning Commission approve the permit application, and allow the company to convert the defunct Pepeekeo Power Plant into a working alternative energy facility.
Of course, the recommendation came with a number of suggested conditions.
One of those conditions: the construction on the facility must be completed within 5 years of the permit approval.
Hu Honua must secure Final Plan Approval, identifying all improvements associated with the proposed use of the plant. As you can see in this video, there is a lot of work to be done.
Hu Honua president Rick McQuian promises that the rusty exterior appearance of the power plant will be fixed, and measures to dampen the industrial noises from the facility will also be deployed.