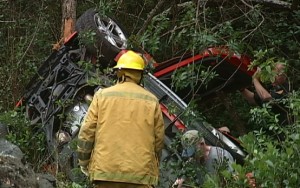 Video by David Corrigan | Voice of Stephanie Salazar
Another week, another accident on the remote Hawaii Belt Road in South Kona.
This vehicle flipped off the highway in the vacinity of the Kipahoehoe Natural Area Reserve and was found in the bushes on Saturday afternoon.
The driver had to be extricated from the car by police and rescue personnel.
Good Samaritans, whom helped the first responders by directing traffic, said the passenger appeared to be OK, although he needed help getting out of the car.
The swerving stretch of road is notoriously dangerous.