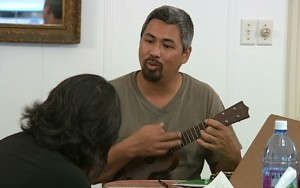 Video by David Corrigan | Voice of Stephanie Salazar
Keoki Kahumoku, a fifth generation slack-key guitarist and five-time Grammy winner with a passion for sharing the music of the islands, just wrapped up a music and workshop tour around the Big Island.
"Bluegrass Meets Pili Grass", a mix of original and traditional bluegrass songs, featured Kahumoku and five bluegrass musicians, and entertained crowds all over the island in early March.
Kahumoku also conducted slack key and ukulele workshops, like this one at the Pahala Plantation House, during the tour.