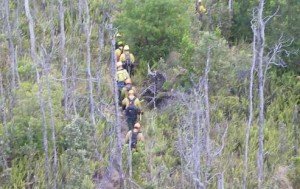 Voice of Tim Bryan
The Napau brushfire that has consumed over 2,000 acres in Hawaii Volcanoes National Park is not out – but it has been placed in "patrol status".
A significant amount of rain has helped put a damper on the fire that was born of lava from the shortlived Kamoamoa fissure eruption.
Firefighters have hiked out of the area, and the ground has become too slippery for safe firefighter operations.
A transition of command and release of resources will continue in the next few days, as mainland fire forces will return to there home units.
Helicopter and ground forces will observe the fire area for additional smoke over the next few days.