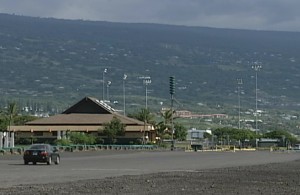 Voice of Stephanie Salazar
Hawaii State Civil Defense established a Community Disaster Assistance and Recovery Center at Old Kona Airport Events Pavilion on Tuesday, March 29 and Wednesday, March 30 to offer assistance to people affected by the tsunami.
Hours for the center run from 10 a.m. to 4 p.m.
State Civil Defense officials are contacting all of the people who called Aloha United Way's 2-1-1 hotline for assistance in connection with the tsunami to invite them to visit the Disaster Assistance Recovery Center for additional information and assistance.
Governor Abercrombie has requested that President Obama issue a presidential disaster declaration.