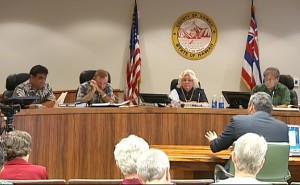 Video by David Corrigan | Voice of Stephanie Salazar
For those wondering if we would see a repeat of last year's tense back and forthbetween Hamakua councilman Dominic Yagong and Mayor Kenoi over the Hawaii County budget… things were a little more low key this year, as noted by Yagong himself.
Yagong observed that the mayor's demeanor had changed this year, saying Kenoi appeared to be much more open to the council's suggestions. The mayor said he has been open to suggestions every year.
Yagong has been a vocal critic of the mayor's budget, but was mostly complimentary when face to face with the mayor at Monday's meeting.
One thing Yagong did focus on, however… suggesting that the council should craft a resolution that would support the mayor in seeking continued furloughs for county employees when negotiating with the unions for a new contract. It was an offer that the mayor was unwilling to endorse. The mayor's proposed budget does away with county employee furloughs, but some council members think that the economy has not made enough of a recovery to justify that.