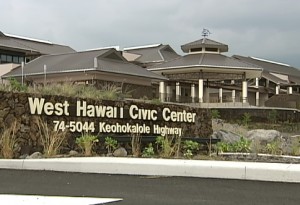 Voice of Stephanie Salazar
An SBA Disaster Loan Outreach Center will be opened at the new West Hawaii Civic Center on Ane Keohokalole Highway.
The announcement comes on the heels of the declaration by the U.S. Small Business Administration that Hawaii County has been "adversely affected" by the Honshu, Japan Tsunami of March 11.
Last week, the Governor Abercrombie asked for the SBA Administrative Disaster Declaration to provide low-interest disaster loans to private individuals, businesses and nonprofits on Hawaii Island to repair or replace materials damaged from the tsunami.
The state says damage sustained on the other islands did not qualify for disaster loans under SBA guidelines.
The center will be open from Thursday, March 31, 2011, and will close Thursday, April 21, 2011. Hours will be Monday through Friday from 8:00 a.m. to 4:00 p.m. More information can be found on the SBA website at this address:  www.sba.gov/services/disasterassistance