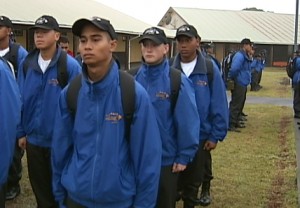 Video by David Corrigan | Voice of Tim Bryan
Ever since the sudden closure of Kulani Correctional Facility in 2009, the Big Island has watched the transformation of the former prison grounds into today's Hawaii National Guard Youth Challenge Academy.
The remote facility located at the end of Stainback Highway on the slopes of Mauna Loa now hosts cadets instead of prisoners, helping at risk youth to achieve.
On Monday, Big Island Video News was given the chance to see some of these youth cadets in action, marching out on a dark and rainy morning to begin their day, in formation.
The cadets hoisted the American flag and stood in salute as reveille played over the loudspeaker.
Then it was an orderly march to the mess hall for breakfast.
The academy officials say these cadets are in Phase Two of a 22 week program – which is the academic portion of the program.
Meanwhile, at the statehouse, officials are considering reinstating Kulani prison at this same location. We will have more on that in tomorrow's newscast.